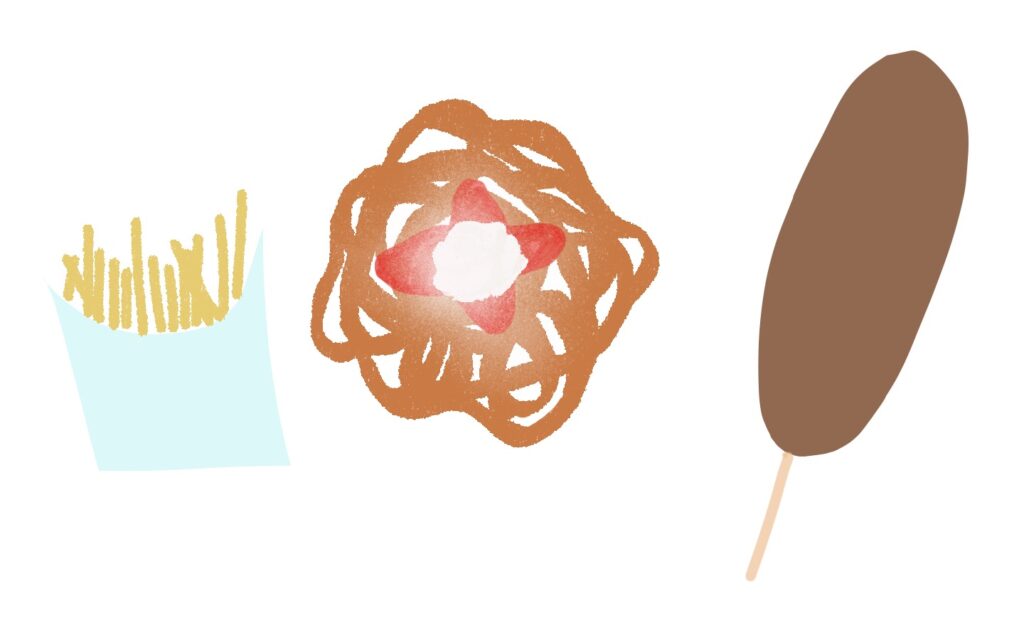 Trying to be healthy on vacation!? It ain't easy!!!
This past weekend I visited the State Fair of Texas (yee ha!) for the first time. I was also sharing it with out-of-town family. I asked many people for advice on what to do at the fair. I quickly learned that fried food is one of its main attractions. The fair offers tons of deep fried foods — from the classic options: french fries, corn dogs, cheese curds, and funnel cake to the unique options: fried coke, fried twinkies, fried fettuccine alfredo, fried cream corn casserole, fried fruit, fried cake balls, fried burritos, fried shepherds pie, etc.
I wanted to enjoy the fair without eating any fried food. I knew this would be a challenge, and it would take some planning. After about a twenty-minute internet search, I learned that you can bring food to the fair. I also learned that, though a little harder to find, you could purchase nuts and grilled corn at the fair. Also, I ensured that we would have a big healthy breakfast right before heading to the fair, and I selected a healthy restaurant for lunch that was on the way home.
I can honestly say no one in my group ate any of the fried food. One of my family members commented that visiting us reminds her that being healthy on vacation is doable. Doable, yes—easy, no.
However, the point of this story is not to say you should always have the healthiest foods all of the time regardless of the circumstances. That isn't realistic. The point is that with a little planning, you can make better choices, and consciously choose when to occasionally indulge.
If you need some help strategizing how to be healthy on your next vacation, don't be afraid to ask a fitness professional or healthy coach.
Thanks for reading. I hope you have a safe and healthy week.